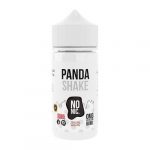 Panda Shake Milkshake Liquids By Black Mvrket | 80ml Shortfill
Oreo Biscuits & Vanilla Ice Cream
VG: 70% | PG: 30%
Bottle Size: 100ml (80ml of Juice)
0MG Nicotine
Nicotine Shots can be purchased separately
Description
Additional information
Reviews (0)
Description
Black Mvrket | 80ml Shortfill
Panda Shake Milkshake Liquids
Panda Shake Milkshake Liquids is a favourite cookie biscuit blended, combined with a scoop of creamy vanilla ice cream blended together to create this signature shake.
About
Milkshake Liquids by Black Mvrket is created in the US, which has been imported for the British audience. Milkshake Liquids all comes in a 100ml shortfill bottle. There is space for 20ml within the bottle which can be used to make this liquid to 3mg nicotine strength with the use of 2 x 10ml nicotine shots.
View all of Black Mvrket Flavours
VG/PG Ratio
Black Mvrket e liquids are 70% VG and 30% PG.
High VG Liquids will give you a smoother feeling when inhaled also ideal for cloud chasers as high VG makes more clouds.
High PG liquids will produce less vapour smoke and more of a throat hit.
Make it 3mg!
This is 80ml of 0mg e-liquid, supplied in a 100ml short fill bottle, this leaves room for the 2 x nicotine shots to make 3mg of 100ml e-juice. Please shake the product together thoroughly each time you use it. Nicotine is addictive, please use it carefully.
Additional information
| | |
| --- | --- |
| Amount of Juice | 80ml, Shortfill |
| Brand | Black Mvrket |
| Nicotine Strength | 0mg |
| PG/VG Ratio | VG: 70% | PG: 30% |
| Flavours | oreo, Cake, Ice Cream, Vanilla |
---
Only logged in customers who have purchased this product may leave a review.