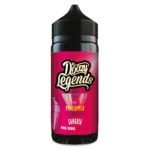 Pineapple Raspberry Sangria by Doozy Legends | 100ml Shortfill
Pineapple Raspberry Sangria
VG: 70% | PG: 30%
Bottle Size: 120ml (100ml of Juice)
0MG Nicotine
Made In England
Nicotine Shots can be purchased separately
Description
Additional information
Reviews (0)
Description
Doozy Legends
100ml Shortfill | Doozy Vape Co
Pineapple Raspberry Sangria by Doozy Legends. Based on the famous Spanish Cocktail, Doozy's Sangria is a unique Fruit Punch created from juicy Wild Raspberries drenched in Pineapple Juice to create the perfect Cocktail combination.
About
Doozy Vape Co was Established in 2015 and defined by a genuine passion for vaping. Doozy has grown to be one of the world's most distinctive vape brands, specialising in high quality juices in a unique variety of flavours, and with none of the icky ingredients found in lesser quality liquids.
The product of choice for connoisseurs and novices alike, the Doozy portfolio has a flavour for every vaper.
VG/PG Ratio
Pineapple Raspberry Sangria by Doozy Legends is a 70% VG and 30% PG.
High VG Liquids will give you a smoother feeling when inhaled also ideal for cloud chaser as high VG makes more clouds.
High PG liquids will produce less vapour smoke and more of a throat hit.
Make it 3mg!
This is 100ml of 0mg e-liquid, supplied in a 120ml short fill bottle, this leaves room for the 2 x nicotine shots to make 3mg of 120ml e-juice. Please shake the product together thoroughly and each time you use. Nicotine is addictive, please use it carefully.
Additional information
| | |
| --- | --- |
| Weight | 300 g |
| Amount of Juice | 100ml, Shortfill |
| Flavours | Cocktail, Pineapple, Raspberry |
| Brand | Doozy Vape Co |
| Nicotine Strength | 0mg |
| PG/VG Ratio | VG: 70% | PG: 30% |
---
Only logged in customers who have purchased this product may leave a review.