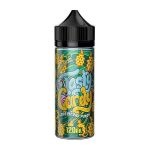 Tropicana Punch by Tasty Candy | 100ml Shortfill
Tropicana Punch
VG: 70% | PG: 30%
Available in 100ml & 200ml
0MG Nicotine
Nicotine Shots can be purchased separately
Description
Additional information
Reviews (0)
Description
Tasty Fruity – Sour Pops
Tropicana Punch by Tasty Candy is a tropical punch vape that features a strong Pineapple flavour throughout. This refreshing blend is perfect for those of you who love pineapple flavoured vapes!
About
Tasty Candy is high quality e-liquids made in Malaysia giving you a variety of e-liquids to choose from. They originally brought to the market 120ml bottles which means they will last you even longer. Leaving room for nicotine so you can add a booster if needed.
See the full range of Tasty Fruity
VG/PG Ratio
Tropicana Punch e-liquid is a 70% VG and 30% PG.
High VG Liquids will give you a smoother feeling when inhaled also ideal for cloud chaser as high VG makes more clouds.
High PG liquids will produce less vapour smoke and more of a throat hit.
Make it 3mg!
2x nicotine for 100ml
4x nicotine for 200ml
This is 100ml of 0mg e-liquid, supplied in a 120ml short fill bottle, this leaves room for the 2 x nicotine shots to make 3mg of 120ml e-juice. Please shake the product together thoroughly and each time you use. Nicotine is addictive, please use carefully.
Additional information
| | |
| --- | --- |
| Weight | 300 g |
| Amount of Juice | 100ml, 200ml, Shortfill |
| Brand | Tasty Fruity |
| PG/VG Ratio | VG: 70% | PG: 30% |
| Flavours | Pineapple |
| Nicotine Strength | 0mg |
---
Only logged in customers who have purchased this product may leave a review.