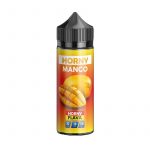 Mango by Horny Flava | 100ml Shortfill
Mango
VG: 70% | PG: 30%
Bottle Size: 120ml (100ml of Juice)
0MG Nicotine
Made in Malaysia
Nicotine Shots can be purchased separately
Description
Additional information
Reviews (0)
Description
HORNY FLAVA
100ml SHORTFILL
Mango by Horny Flava has captured the fresh and juicy awesomeness of the King of Fruits in 120ml bottles of best Mangos. The succulent fleshy taste of mango is always a delight and brings blissful happiness to its fans. Horny Mango is a celebration of the authentic taste of ripe Alphonso mango, the finest mango variety in the world. The sheer deliciousness of this flavour will make you want to break into a dance and enjoy your day to its fullest.
Mango is the ultimate indulgence for vapours with a sweet tooth. The mango fruit exudes a certain exotic sensuality. Now, the e-cig fans can enjoy that sensuality through taste as well as smell. Every draw of Horny Mango leaves a smooth, sweet real mango aftertaste. The fruity enchantment on your tongue makes you crave for more draws of this ultimate juicy deliciousness. So, satisfy your summer temptations with this flavoursome, lip-smacking e-juice and rejuvenate your day.
About
Extremely popular worldwide, Horny Flava's e-juices typically feature a fruit flavour as its base. The Horney Mango Liquid is the most popular and is one of the top selling vape juices on our store every month. But they have more to offer than mango. With a range of other fruit flavours that come in delightful packaging, the only one of its kind that we've seen. Grape is another among the favourite. Don't take our word for it, check horny flava reviews out. They are seriously good!
View the full range of Horny Flava
VG/PG Ratio
Mango by Horny Flava is a 70% VG and 30% PG.
High VG Liquids will give you a smoother feeling when inhaled also ideal for cloud chaser as high VG makes more clouds.
High PG liquids will produce less vapour smoke and more of a throat hit.
Make it 3mg!
This is 100ml of 0mg e-liquid, supplied in a 120ml short fill bottle, this leaves room for the 2 x nicotine shots to make 3mg of 120ml e-juice. Please shake the product together thoroughly and each time you use. Nicotine is addictive, please use carefully.
Additional information
| | |
| --- | --- |
| Weight | 500 g |
| Amount of Juice | 100ml, Shortfill |
| Flavours | Mango |
| Brand | Horny Flava |
| Nicotine Strength | 0mg |
| PG/VG Ratio | VG: 70% | PG: 30% |
---
Only logged in customers who have purchased this product may leave a review.