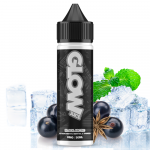 Black Arctic by Glow Juice | 50ml Shortfill
Blackcurrant, Menthol, Aniseed
VG: 70% | PG: 30%
Bottle Size: 60ml (50ml of Juice)
0MG Nicotine
Free Nicotine Shot Included*
Description
Additional information
Reviews (0)
Description
Glow Juice
50ml Shortfill
Black Arctic by Glow Juice 50ml Shortfill.
About
Glow Juice is an exciting UK brand that has taken a direct approach and an uncompromising attitude to manufacturing. Formulated to ensure the best possible flavours for the best possible vaping experience. With a range of bold and striking flavours. The Glow Juice flavours are mixed with high purity propylene glycol, naturally derived vegetable glycerine. Priding themselves on providing the highest quality e-liquids. Vapers who have had the pleasure of sampling this juice will know that it shouldn't be a surprise to anyone that they've continued to go from strength to strength at an unstoppable pace. With top selling flavours like Blue Razz, which has people asking for more and more! Frozen Nectar is another one to give a try!
View All of Glow Juice Flavours
VG/PG Ratio
Black Arctic by Glow Juice is a 70% VG and 30% PG.
High VG Liquids will give you a smoother feeling when inhaled also ideal for cloud chaser as high VG makes more clouds.
High PG liquids will produce less vapour smoke and more of a throat hit.
Make it 3mg!
* 1 x Free Nicotine Shot Included with each bottle
This is 50ml of 0mg e-liquid, supplied in a 60ml short fill bottle, this leaves room for the 1 x nicotine shots to make 3mg of 60ml e-juice. Please shake the product together thoroughly and each time you use. Nicotine is addictive, please use carefully.
Additional information
| | |
| --- | --- |
| Weight | 400 g |
| Amount of Juice | 50ml |
| Flavours | Aniseed, Blackcurrant, Menthol |
| Brand | Glow Juice |
| Nicotine Strength | 0mg |
| PG/VG Ratio | VG: 70% | PG: 30% |
---
Only logged in customers who have purchased this product may leave a review.